Vladimir Putin's massive,triple decker war room revealed
MOSCOW:"Gentlemen. You can't fight in here. This is the war room!"
It could have been a scene straight out of "Dr. Strangelove" when President Vladimir Putin stepped into the Russian Ministry of Defense's brand new, three-tiered, multibillion-dollar control center this week, for a war briefing that had its fair share of movie-like pageantry.
The fortified National Control Defense Center was Putin's first stop after officials confirmed that the Russian charter jet crash that claimed 224 lives last month was the result of an act of terror.
On movie-theater-size screens, live broadcasts showed long-range strategic bombers taking off from Russian air bases to fly sorties over Syria. Putin instructed commanders in Syria to "make contact with the French and work with them as allies" as Russia seeks a central role in a proposed anti-terrorist coalition.
But the real star of the show may have been the building itself, which is designed to be a new nerve center for the Russian military that will coordinate military action around the world, including ballistic missile launches and strategic nuclear deployments.
The building is roughly the equivalent of the U. S. National Military Command Center used by the Pentagon, but as one Russian state news agency noted in a breathless headline this week, "Russian Defense Data Center Outperforms US Facility Threefold: Official."
The center, which is fortified and said to sit on top of a maze of underground tunnels, is on the Frunze Naberezhnaya on the left bank of the Moscow river, a little over two miles from Red Square.
It was finished in 2014 and is part of a massive, decadelong modernization of Russia's army, which has cost hundreds of billions of dollars, but has also produced noted improvements, from the expertise of Russian troops deployed during the Crimea operation to the recent cruise missile strikes launched from the Caspian Sea.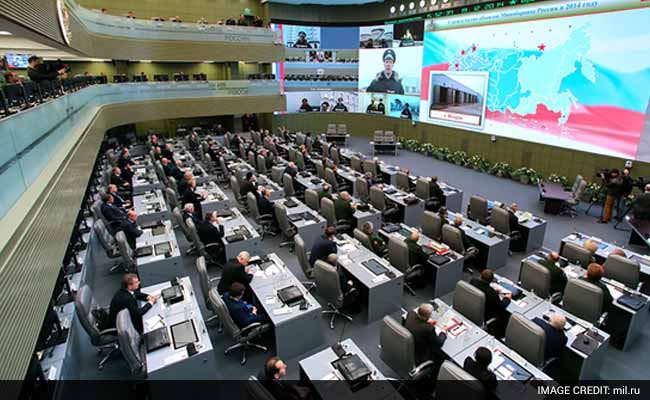 The new national defense center also includes a helicopter pad that was deployed on the Moscow River late last year and can accommodate Russia's Mi-8 transport helicopter. In case of a war, it would be the country's premier communications center, and one Russian commander compared it to the military headquarters of the Soviet Union during World War II.
Russia's military has sought to raise its public profile through savvy media branding.
At the briefing, army personnel sat in color-coded rows with matching headsets and water bottles bearing the Russian army brand (their flagship store recently opened on Tverskaya Street here, Moscow's equivalent of Fifth Avenue). The briefing was covered on Russian national television from at least four distinct camera angles.
Andrei Kolesnikov, a reporter who has covered Putin for the past 15 years and is known for his lyrical, fawning reports of the Russian president, waxed introspective as he covered the briefing Tuesday.
"When this building and this room were opened a year ago, I was somewhat perplexed: Yes, it all looks very persuasive, and the Pentagon might even only dream of something like this, if only in a nightmare. But why? Who will need these screens the size of small soccer fields with grandstands for viewers?
"And here was the answer. Every spot was filled. Russia's entire high army command were the viewers. Or was it like the warming bench, and at any moment everyone was ready to go on the field."
Later in the piece, he added: "My soul of course was not filled with delight and trembling at the hellish power of this armada. But I was perturbed, yes, I was."